My father, Johan Albert (Joopie) Rusche was a Netherlands National, born in 1907 in Solo (Surakarta), in the former Dutch colony for 300 years called The Dutch East Indies, it is now known as Indonesia.  
He was the eleventh child of Albert and Diena Rusche.
His siblings were:
Alberta Wilhelmina (

Bertha

) Samuels de Wilde
Roelof Willem Albert (

Willem

) Rusche
Johannes Phillippus Cornelis (

Jootje

) Rusche
Diena Anna Magdalena Theodora (

Annie

)
Albert Willem Roelof Rusche
Julius Cornelis Alexander Augustus (

Alex

) Rusche
Theodorus Willem Albert (

Theo

) Rusche
Alberdina (

Dina

) Doesburg
Cornelis Marinus Alwin Albert (

Alwin

) Rusche
Adolph Heinrich Christiaan (

Ade

) Rusche
Growing up in the West and Central parts of the island of Java, the stronghold of the Dutch occupancy. Working at the Rusche Family businesses.
In the West and Central parts of the island of Java, the stronghold of the Dutch occupancy.
Johan marries Constance Anna Herrebrugh in Batavia, now known as Central Jakarta. They were drawn into the early stages of World War II.
In a public proclamation, the Netherlands declares war on Japan.
The Netherlands, Dutch East Indies surrenders to Japan. Johan goes in hiding for 5 months. 
Captured by the Japanese.
Johan was captured as a Prisoner of War by the Empire of Japan (July 29, 1942) and sent to internment camps throughout World War II. He was on the famous Junyo Maru that was torpedoed with  6500 POWs, slaves and crew. 5620 perished in the waters off southwest Sumatra – making this the largest maritime disaster of World War II! 

Out of 2,220 allied POWs on the Junyo Maru,

723 survived and only 96 survived after the war!
Johan was amongst the 96!
Released as POW. Moved to Bandung, Central Java.  Also was a place where the Dutch colonialism had Tea plantations and it was another Dutch stronghold. Soon before WWII was over, Indonesia reclaimed their independence from The Netherlands.  Violence increased toward the former Dutch and also the former Japanese occupiers that had remained.
The Netherlands recognizes the Indonesian state.
The drive for Indonesian independence spurred violence toward the former Dutch occupiers and the family flees on refugee boat for refuge to The Netherlands.
The family spent the next 10 years (1950-61) living in Den Haag (The Hague), South Holland.

Johan works at a Tennis club.
Johan works at ZHB South Holland Brewery.

Arthur Denis Rusche is born in Den Haag.
Peggy Minke Rusche is born in Den Haag.
Art starts kindergarten in Den Haag.
Johan applied for immigration to the USA. Through the World Council of Churches, The First Baptist Church of Olympia Washington signed up to sponsor our family in the United States.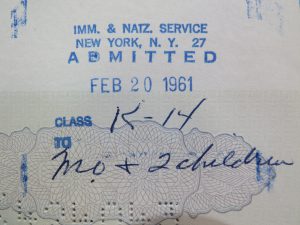 On February 20, 1961 the family arrived in New York.  Johan (54), Conny (47), Joyce (14), Arthur (5) and Peggy (2). There was a national airline strike on at the time and I remember it taking a long time to get to Seattle. We arrived at night in a downpour as we were picked up by  Dr Henry Rahn, the pastor of The First Baptist Church in Olympia Washington and Mrs. Bingham the church's secretary. The Church set us up with a rental duplex on Olympia's Westside near the old St Peters hospital. They also furnished us with a Ford station wagon with wood panels. We stayed in that house until we gained citizenship in 1966.
Joyce attends Jefferson Jr High, Olympia High and Western Washington University.
Art attends Garfield Elementary, Jefferson Jr High, Olympia High and Washington State University.
Peggy attends Garfield Elementary, Jefferson Jr High, Capital High and Washington State University.
Johan starts "Johan's Radio Repair" inside Modern TV on 700 4th Ave E. in Olympia. Johan was one of the first technicians to learn transistor technology and was the place to go for transistor radio repair in Olympia.
Family also works at the church, washing dishes and serving food at church functions
Petitioned and became citizens of the United States, Johan, Conny and Joyce were naturalized and Art and Peggy were "Derivatives of Naturalization".  We were then able to sponsor Conny's mother, my grandmother Anna Minke Herrebrugh to America!
Conny starts work as a second-shift Keypunch operator at the Washington State Department of Licensing. She would wait for the kids to come home from school, start dinner, then Johan would come home and bring her to work. At midnight he would pick her up at the Capital Campus.
Johan ends the radio repair shop business.
Conny retires from the State of Washington.
April 10, 1980
January 23, 1984
May 5th, 1995