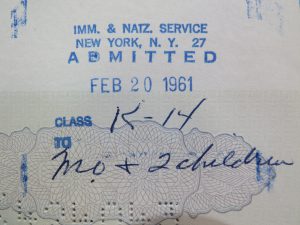 After the birth of Arthur in 1956 and Peggy in 1959 in Den Haag, Johan applied for immigration to the USA. Through the World Council of Churches, The First Baptist Church of Olympia Washington signed up to sponsor our family in the United States.  Johan and Conny were granted K-13 VISAs (Dutch National Refugee from Indonesia) and the family as K-14 (children of Dutch National Refugee from Indonesia).
On February 20, 1961 the family arrived in New York.  Johan (54), Conny (47), Joyce (14), Arthur (5) and Peggy (2). There was a national airline strike on at the time and I remember it taking a long time to get to Seattle. We arrived at night in a downpour as we were picked up by  Dr Henry Rahn, the pastor of The First Baptist Church in Olympia Washington and Mrs. Bingham the church's secretary. The Church set us up with a rental duplex on Olympia's Westside near the old St Peters hospital. They also furnished us with a Ford station wagon with wood panels. We stayed in that house until we gained citizenship in 1966.
In 1966 we became citizens of the United States, Johan, Conny and Joyce were naturalized and Art and Peggy were "Derivatives of Naturalization". We were then able to sponsor Conny's mother, Anna Minke Herrebrugh to America!
Art graduates from Olympia High School and attends Washington State University. In 1979 Arthur obtains a Bachelor of Science in Electrical Engineering and joins The Boeing Company in Seattle Washington. Arthur enjoys a 37 year career as a Principle Lead Engineer in Instrumentation for the Structures Test Laboratories in Seattle.